Introduction
Strongylocentrotus purpuratus attracts much attention due to its unusual form as well as its vivacious color, but this creature is not to be reckoned with. © Kirt L. Onthank.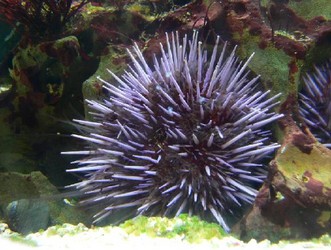 The Purple Sea Urchin grazes on rocks in hope to satisfy its appetite. © David Monniaux
Scientific Name: Strongylocentrotus purpuratus
Common Name: The Purple Sea Urchin
General Information:
The purple sea urchins are equipped with a test which is made up of calcium carbonate and then covered with skin which protects the sea urchins internal organs. The calcite which is used to keep the plates of the endoskeleton together is rich in magnesium, therefore allowing the endoskeleton to strengthen. Although, it might seem as though they have an external skeleton, these species do not have external skeletons, but, rather, possess a mesoderm endoskeleton. The purple sea urchin has a mouth with five teeth underneath its body so it can graze on kelp quite easily. The excretion organs are located at the top of their body and therefore waste is omitted at the top of the urchin. These organisms posses spines that are used for both protection and locomotion. Furthermore, all sea urchins also possess tube feet. They consist of several small, sticky and hardly visible feet shaped like a tube which help these organisms to move using hydraulics.
Habitat:
The purple sea urchins are found in shallow areas of water usually along a coast with strong waves. They are mainly found along the coast line of Alaska all the way down the Pacific Coast to Mexico. They tend to live in kelp forests where they ingest their main source of food, kelp. These sea urchins are very important to their habitat because they help maintain the amount of algae in the ocean.
Adaptations to the Environment:
The purple sea urchin lives in kelp forests, and has spikes for mobilization and protection from predators. They need protection from predators: spiny lobsters, sheep-head fish and sea otters. The sea urchins mouth is setup underneath its body in order for it to graze along the kelp forests and algae in which it lives.
Reproduction:
Purple sea urchins breed yearly around January, February and March and are ready to do so when they have turned two years. At this age they are usually 25 cm in diameter. This reproduction process occurs through external fertilization during which males release their gametes into the ocean and fertilize the female's eggs at random. The surf definitely aids in the transportation of the gametes, but too strong of a surf can damage the ova and spermatozoon. After fertilization, the egg matures and grows into a sea urchin. The test protects the sea urchin's internal organs. However, the strengthening of the test must happen quickly to protect the sea urchin in its vulnerable state.
Classification:
The sea urchin is classified as an Echinoderm which are known for their prickly skin or other protection methods such as spikes. The sea urchin is specified as a member of the Kingdom of Animalia.
Importance in the Ecosystem:
The sea urchins are very important to their habitat because they help maintain the amount of algae in the ocean. They are actually considered the "grazers of marine algae."
The Purple Sea Urchin as well as others possess 5 teeth which form Aristotle's Lantern. © Maria Fam and Katelyn Vickery.
Common or Endangered:
Sea urchins have not been classified as endangered, and at the moment they are considered common. However, the harvesting of purple sea urchins is becoming more popular therefore increasing their chances of becoming endangered. They are being exported to Japan and other countries in vast amounts due to their reputation as a delicacy. As a result, scientists believe that the population of sea urchins is at risk. Thankfully, fishing permits of the sea urchin are being limited in order to conserve this amazing animal.
Other Information:
Sea urchins play an important ecological role as grazers of marine algae. When their predators such as sea otters are absent, urchins can become very numerous. In these situations, the seabed is stripped bare of marine algae creating what is known as urchin barrens. These urchins are nocturnal and do most of their grazing at night. During the day they will usually stay stationary on the aquarium glass, or in hiding spots in rock work. All urchins prefer rock work on which they can crawl and feed. They are excellent algae eaters. The purple sea urchin also has five teeth which form to create Aristotle's Lantern. They use these five pyramids and each pyramid has a tooth to force algae off rocks.
Information on the Internet