Click on an image to view larger version & data in a new window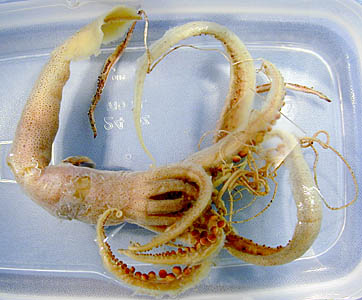 Figure. Dorsal view of the holotype of C. spoeli. Photograph by R. Young.

Photophores

Eyeball- Two series: lateral series (7 organs) = 1+5+1; medial series (seven organs) = 1+5+1.
Viscera: two, large photophores.
Club-tip photophore small, with papilla.
One embedded in aboral surface of club at or just distal to proximal end of club (opposite trabecula 1 or 2).

Pigmentation

Distal photophore with chromatophores only.
Proximal and middle sections of club with epithelial pigment but absent on oral surface of distal section while present on aboral surface in proximal half.
Club sucker stalks with epithelial pigmentation and strongly pleated.
Buccal membrane unpigmented.
Olfactory organ with chromatophores on stalk and head.


Arms

Arms I 51-59% of ML
Arms III 107-117% of ML
Arms IV 178-194% 0f ML
Largest arm III suckers with 8-14 broad, rounded teeth, fused laterally; more distal suckers with thin blunt teeth; more proximal suckers with broader, rounded teeth.
Largest suckers globular.

Tentacular clubs

Club length 47-71% of ML
Suckers with 5-7 pointed teeth over distal half of ring; no enlarged central tooth.

Sucker stalks- two distinct parts; stalks of lateral and medial suckers about equal in length.

Protective membranes

Membranes in three distinctive sets with intermediate set broadest.
Proximal set with ca. 18-19 slender, separate trabeculae (about 25% of club length).
Intermediate set without distinct trabeculae (forms fleshy membrane) but opposite ca. 16 rows of suckers (about 35% of CL).
Distal set with slender, separate, trabeculae opposite 23 rows of suckers (about 35% of CL).

Head

Head length 48-50% of ML.


Funnel

Funnel-locking apparatus with broad, protruding tragus and broad, well-developed antitragus; both overhang.
Comments
Description is from Salcedo-Vargas (1996) and re-examination of the holotype. Clubs of the holotype are stretched and distorted; counts of trabeculae are approximate.