Oh my goodness! Unless you are a Tree of Life developer, you really shouldn't be here. This page is part of our beta test site, where we develop new features for the ToL, often messing up a thing or two in the process. Please visit the official version of this page, which is available
here
.
Tetragma gei
Olle Pellmyr
Adult Characteristics
Wing expanse 11-17 mm, with both sexes almost entirely pale ochreous or creamy white. The female possess a much elongated, telescoping abdomen used in reaching the deeply recessed ovaries of its host, Geum triflorum; the elongated seventh segment quickly loses its scales, and the exposed dark integument becomes another prominent feature of this species.
Comparison with Similar Species
The exceptionally telescoping abdomen of the female makes them unmistakable. The male is superficially similar to the somes co-occurring Greya subalba. It differs by having light tan or cream-colored forewings, whereas G. subalba has white forewings. The species is also usually found in immediate vicinity of its host, Geum triflorum, whereas G. subalba is found around members of Lomatium.
Host, Oviposition, and Larval Feeding Habits
Exclusively on Geum triflorum (mountain avens; Rosaceae). Early-instar larvae feed inside the developing seeds. An oviposition sequence, an egg, and an attacked Geum seed are shown in Davis et al. (1992)

Click on an image to view larger version & data in a new window
Geographic Distribution
T. gei is so far only known from Washington, Idaho, Wyoming (Yellowstone), and South Dakota (Black Hills). The host plant is more widespread, however, and the moth may well occur over a larger geographic range.
Habitat
In herb-rich steppe and forest openings with Geum triflorum, often at 1000+ m elevation. The photograph below shows the type locality, where the moth coexists with Greya subalba.

Click on an image to view larger version & data in a new window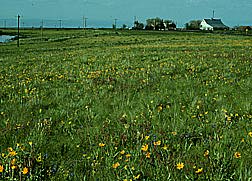 References
Davis, D.R., O. Pellmyr & J.N. Thompson. 1992. Biology and systematics of Greya Busck and Tetragma n. gen. (Lepidoptera: Prodoxidae). Smiths. Contrib. Zool. 524:1-88.
About This Page


University of Idaho, Moscow, Idaho, USA

Page copyright © 1996

Page: Tree of Life Tetragma gei Davis and Pellmyr. Authored by Olle Pellmyr. The TEXT of this page is licensed under the Creative Commons Attribution-NonCommercial License - Version 3.0. Note that images and other media featured on this page are each governed by their own license, and they may or may not be available for reuse. Click on an image or a media link to access the media data window, which provides the relevant licensing information. For the general terms and conditions of ToL material reuse and redistribution, please see the Tree of Life Copyright Policies.
Citing this page:
Pellmyr, Olle. 1996. Tetragma gei Davis and Pellmyr. Version 01 January 1996 (under construction). http://tolweb.org/Tetragma_gei/12412/1996.01.01 in The Tree of Life Web Project, http://tolweb.org/
edit this page