Oh my goodness! Unless you are a Tree of Life developer, you really shouldn't be here. This page is part of our beta test site, where we develop new features for the ToL, often messing up a thing or two in the process. Please visit the official version of this page, which is available
here
.
Luteuthis shuishi
Steve O'Shea, Chung Cheng Lu, Richard E. Young, and Michael Vecchione
Introduction
Luteuthis shuishi is known from a single female which, unfortunately was poorly preserved. This octopod has large, ventrolaterally oriented eyes and large fins but small cirri and is exceptionally gelatinous. The latter trait resulted in severe shrinkage upon preservation. The ML before preservation was 185 mm and after preservation was 88 mm.


Click on an image to view larger version & data in a new window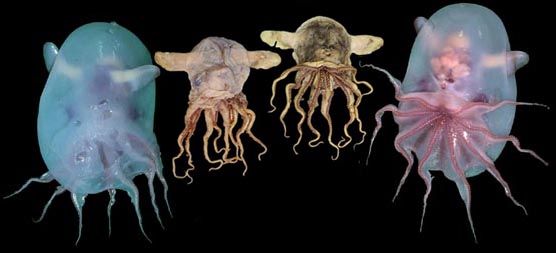 Figure. Dorsal and ventral views of the fresh holotype of L. shuishi and the same views after it had been preserved. We have attempted to show the extent of this shrinkage by adjusting the size of the photographs taken before and after fixation.Photographs from O'Shea and Lu, 2002.
Diagnosis
A Luteuthis ...
with mantle and funnel attached to arms IV.

Characteristics
Arms and web

Dorsal arms long and slender, 75% of TL; ventral arms short, 38% of TL.
Web short, ca. 24% of arm length.



Suckers and cirri

Suckers small, maximum diameter ca. 5% of ML.
Sucker aperature with 16-18 well-developed hardened radiating tooth-like structures; structures sometimes scalloped.
First 3-4 suckers moderate in size, thereafter sucker diameter gradually increases, with similarly sized suckers present at mid-point of all arms, thereafter suckers gradually decrease in diameter distally.
Suckers most crowded on distal half of each arm where sucker bases touch one another.
Up to 57 suckers on all arms.
Cirri short, ca. 2% of ML or 40% of greatest sucker diameter.
First distinct cirri between suckers 4 and 6 on all arms.



Mantle and funnel

Mantle attached to ventral (aboral) surface of arms IV distal to base, at level equivalent to suckers 1 and 2.
Funnel attached to ventral (aboral) surface of arms IV.



Shell

W-shaped.
Wings with strongly keeled margins; margins extend over saddle meeting mid-way dorsally as a pronounced downward-deflected prominence.
Basal shelf plate-like.
Comments
This description is taken from Lu and O'Shea (2002) except that the photographs are in color rather than black and white. More details of the description of L. shuishi can be found here.
This species differs from L. dentatus in having shorter arms, the attachment of the mantle and funnel directly to the ventral surface of arms IV and more numerous tooth-like structures in the suckers (16-18 vs 10).
Life History
Eggs found free in mantle cavity of the poorly preserved octopod were 17.8 by 11 mm in size.
Distribution
L. shuishi is known only from the type locality at 19°30.1'N, 114°09.8'E, near the Dong-Sha Islands (Pratas Islands) in the northern South China Sea, 767 m depth.
References
O'Shea, S. and C. C. Lu. 2002. A New Species of Luteuthis (Mollusca: Cephalopoda: Cirroctopoda) from the South China Sea. Zoological Studies, 41: 119-126.
About This Page
Steve O'Shea


Oceanic Sciences Research Institute, Auckland University of Technology, Auckland, New Zealand



National Chung Hsing University Taiwan



University of Hawaii, Honolulu, HI, USA



National Museum of Natural History, Washington, D. C. , USA

Page copyright © 2016 , , , and
Citing this page:
O'Shea, Steve, Chung Cheng Lu, Richard E. Young, and Michael Vecchione. 2003. Luteuthis shuishi O'Shea and Lu 2002. Version 13 May 2003 (under construction). http://tolweb.org/Luteuthis_shuishi/20147/2003.05.13 in The Tree of Life Web Project, http://tolweb.org/
edit this page